Beef and kimchi stew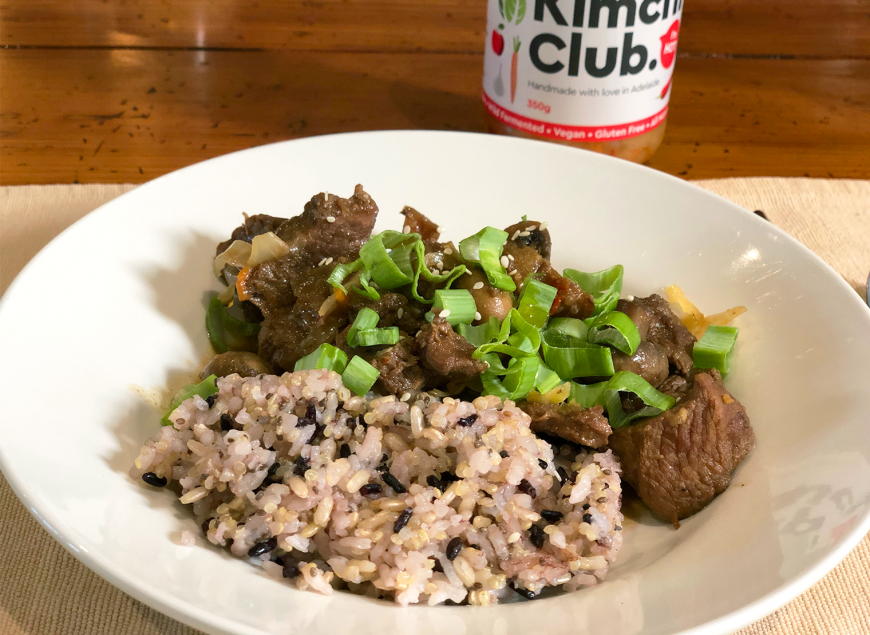 Prep: 10-15 minutes
Cook: Approximately 1 hour
Serves: 6 servings (serving size: 1 cup stew mixture and 1/2 cup rice)
Ingredients:
700g boneless chuck roast or beef tenderloin cut into bite-size cubes
2 large garlic cloves, minced (about 1 Tbs),
1 Tbs minced fresh ginger,
3/4 cup water,
2 Tbs soy sauce,
2 Tbs rice wine or mirin
1 jar of Kimchi Club's Organic Hot Kimchi 350g
1 Tbs sesame oil,
1 Tbs chopped spring onions for garnish,
1 Tbs sesame seeds for garnish,
3 cups cooked rice. You can cook your favourite grains and seeds mixture which I used a mixture of medium white, brown, black, quinoa and chia seed
Method:
1. Heat up a large skillet, add beef cubes and brown well (takes about 10 minutes), remove the meat to a plate, and turn down the heat to low.
2. Add garlic and ginger to the pan and stir occasionally for 2 minutes.
3. Add water, soy sauce, rice wine, meat and bring to a boil.
4. Cover, reduce heat and let it simmer for approximately 45 minutes until the meat is tender, stir occasionally.
5. Turn off the heat, stir in one jar of Kimchi Club's Organic Hot Kimchi, sesame oil, sesame seeds, spring onions.
6. Serve stew with cooked rice. Garnish with sesame seeds and chopped spring onions.
Happy cooking!