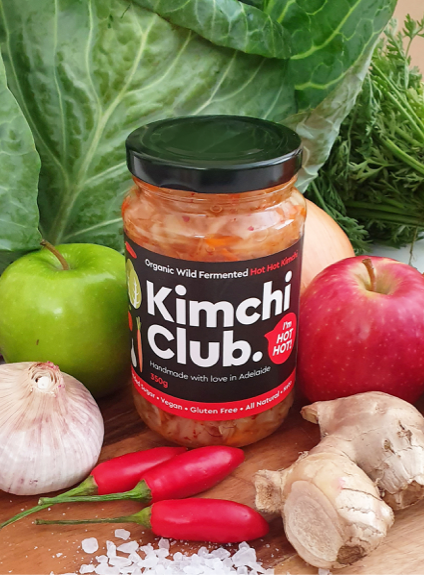 Hot Hot Kimchi
The traditional Korean recipe for the real hotties.
We took our Hot Kimchi and added a lot more chilli. If you like hot food, you'll love this one. It won't nuke your tastebuds but it'll definitely give your tongue a workout.
Add Hot Hot Kimchi to a broth for a winter boost or use it as your secret ingredient for the BBQ challenge this summer.
Hot Hot Kimchi
$14.95
For sale online in 350g jars.
Available in supermarkets in both 350g and 140g jars.
Find a store near you
Store: Keep refrigerated below 4°C.
Certified organic cabbage
Certified organic carrot
Certified organic apple
Certified organic onion
Certified organic garlic
Certified organic ginger
Certified organic chilli
Filtered water
Sea salt
All Natural

Raw

Wild Fermented

Probiotic

Prebiotic

No added Sugar

Gluten Free

Vegan

Keto

99% Australian Ingredients
We love the perfect spiciness and it's our staple in our table!

Jan C. Adelaide.

I'm glad I tried again because it turns out I just had a bad batch (or brand) because Kimchi Club's kimchi is amazing!

Lucy. Adelaide.