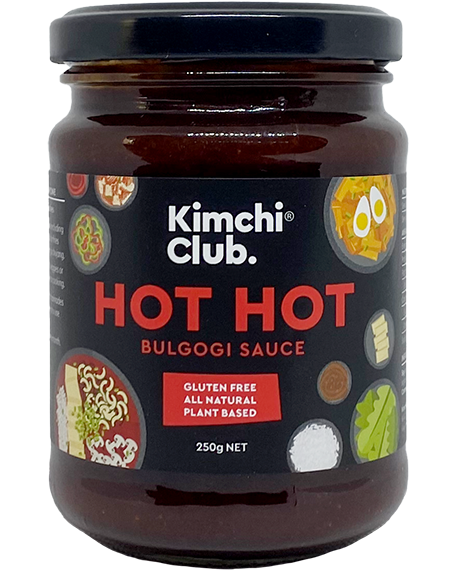 Hot Hot Bulgogi Sauce
Our Hot Hot Bulgogi is serious about heat.
A little of this sauce goes a long way, with double the chilli and a smokiness that takes it to the next level in depth, as well as intensity. To make your own tteokbokki, stir this through some rice cakes.
Our authentic Korean Bulgogi Sauces are delicious and versatile. Made with all natural ingredients, they can be used to create many popular Korean dishes and used as the base for stir-fries, stews and BBQ , as a marinade, in dressings, dipping sauces and many more yummy ways.
Hot Hot Bulgogi Sauce
$10.95
Refrigerate after opening.
All Natural

Gluten Free

Non GMO

No Corn Syrup

No Preservatives

Plant Based

Australian Made
Gluten Free Non-GMO Soy sauce
Apple
Pear
Sugar
Cooking wine
Chilli
Onion
Garlic
Ginger
I use this like gochujang and love Kimchi Club's the best!

Emma T.

The hotter the better with Korean food I say!

Roz K.