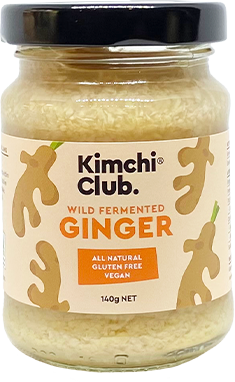 Fermented Ginger
Our ginger has that spritzy tang we all love with a depth you haven't experienced in ginger before.
Use it in any sweet or savoury recipe which requires ginger – stir fries, curries, fish, soups, cakes or cookies. Add it to smoothies, muesli, ice cream, pancakes and salad dressings. Make a soothing winter tea with a spoonful of our ginger in a tea infuser, steeped in hot water and sweetened with honey.
Store: Keep refrigerated below 4°C.
All Natural

Raw

Wild Fermented

No Preservatives

No Added Sugar

Live Culture

Prebiotic

Gluten Free

Vegan

Keto

100% Australian Ingredients
Local ginger
Kimchi Club's organic vegan culture
Sea salt
Easy fix for my breakfast juices and smoothies.

Sara L. Adelaide