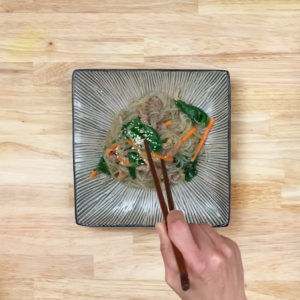 Japchae (Korean Glass Noodles Stir Fry)
I've had so many requests to cook Japchae #잡채. This particular dish used to be one of my favourites as a child, its so much fun to eat as well as so tasty. Also this dish has a perfect balance of umami and sweetness from the mix of fermented garlic, ginger and soy sauce.
Ingredients
200

g

beef stir fry strips

200

g

oyster mushroom

pulled apart

4

tsp

Kimchi Club Garlic

2

tsp

Kimchi Club Ginger

4

tbsp

soy sauce

4

tbsp

sesame oil

2

tbsp

olive oil

1

small onion

sliced

1

medium carrot

julienne

200

g

baby spinach

400

g

glass noodles

Salt and pepper

to taste

Sesame seeds

to garnish
Instructions
Add beef strips, oyster mushrooms, 2 tbs each of Kimchi Club Garlic, soy sauce, sesame oil and 2 tsp of Kimchi Club Ginger into a bowl. Mix together by hand and leave to marinade.

Meanwhile, bring a medium saucepan of water to the boil. Add the glass noodles and boil for 6 - 7 minutes. Drain and allow to sit.

Heat a large frying pan over medium heat. Add olive oil, onion and carrot and cook, stirring occasionally until soft. Drizzle with extra oil as needed.

Add the marinated ingredients to the pan and stir, cooking until the beef is cooked throughout.

Add baby spinach and stir, cooking until wilted.

Combine the glass noodles in a bowl with 2 tbs each of Kimchi Club Garlic, soy sauce and sesame oil. Mix with hands until combined. Season with salt and pepper.

Add the cooked ingredients to the bowl of glass noodles and mix with your hands. Serve with a garnish of sesame seeds! 
Notes
The traditional way of making Japchae is to mix using your hands! You can always lightly toss the ingredients or mix with tongs. Be careful adding the stir-fried ingredients to the glass noodles (step 7) - the stir fry will be hot! Allow them to cool slightly before mixing.