Kimchi Roast Chicken
This dish is so simple and delicious. We use this recipe for roast chicken every time. Roasted kimchi is a whole different taste. Bulgogi sauce makes a BBQ chook divine and the mayo brings it all together perfectly.
Enjoy, Minka.
Ingredients
Potatoes and sweet potatoes for 4 people

2

tsp

garlic powder

2

tsp

onion powder

1

tsp

salt

1

jar

Kimchi Club hot kimchi

1

cup

water

1

Whole free range chicken (1.5–2kg)

Olive oil

¼

jar

Kimchi Club Bulgogi Sauce (BBQ, Hot or Hot Hot)

Mayonnaise
Instructions
Sprinkle the garlic and onion powders and salt over the chicken. Tie the legs together with twine, so they don't dry out. Preheat the oven to

220

°C

Pour the whole jar¹ of kimchi into the centre of a roasting tray, along with the cup of water. Place the chicken on top of the kimchi and put the tray into the oven.

After 20 minutes turn the oven down to

180

°C

. Remove the roasting tray from the oven and place the potatoes and sweet potatoes around the chicken. Potatoes should be in a single layer.

Roast for an additional 45–60 minutes until the chicken is cooked². Remove the chicken and allow it to rest.

Mix the potatoes and kimchi in the roasting tin. Turn the oven back up to

220

°C

and blast those potatoes, turning them every 15 minutes.

When the potatoes look crisp (and before the kimchi becomes too burnt), baste the chicken with Kimchi Club Bulgogi Sauce.

Turn the oven temperature back down to

180

°C

. Push the potatoes to the edges of the tray so the chicken can sit in the middle again. Return to the oven for 5–10 minutes until the bulgogi sauce is crisping but not burning.

For mayonnaise: In a small bowl, mix one tablespoon of Kimchi Club Bulgogi sauce for every two tablespoons of mayonnaise.

Serve chicken and potatoes with mayonnaise and veggies to your liking.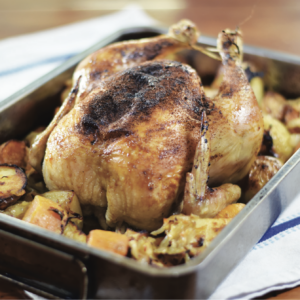 Notes
You might like to keep 1/4 of the jar of kimchi to serve on the side.
Best to use a meat thermometer to check whether chicken is done. Alternatively, skewer the thickest part of the meat and check that the juices run clear.
This recipe features...
Roast the chicken on our Hot Kimchi and slather on some Bulgogi Sauce near the end.
View products