Oyster Mushroom Bulgogi
In Korea we use a lot of mushrooms; oyster, shiitake and enoki are the most popular. This vegan friendly variation on the classic bulgogi stirfry would be welcome on any Korean table and I'm sure you'll love it too – whether you're meat free one day or seven days a week
Enjoy, Minka.
Ingredients
4

tbsp

olive oil

½

jar

Kimchi Club BBQ, Hot or Hot Hot Bulgogi Sauce

500

g

oyster mushroom, pulled apart

4

spring onion, finely sliced

300

g

capsicum (mixedcolours), roughly sliced

1

medium carrot, julienned¹

4

tsp

sesame oil

black sesame seeds², to garnish
Instructions
Heat a frying over medium heat. Add olive oil, then oyster mushrooms and spring onions. Stir until both have softened slightly.

In the same pan, add the capsicum and carrot. Cook until the capsicum has started to soften (leave al dente or cook longer to your liking).

Add sauce until well coated and heated through (¼ – ½ jar).

Drizzle with sesame oil. Stir until mixed.

Serve with rice or noodles and garnish with sesame seeds.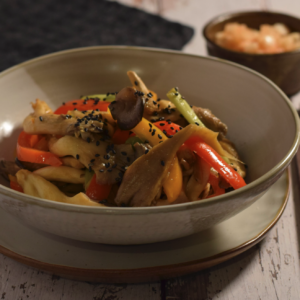 Notes
You can use other veggies too of course! Try some broccoli, roughly chopped cabbage leaves, halved brussels sprouts, onion or snow peas.
White sesame seeds would do. Don't go shopping or put off making this recipe just because of the colour of your sesame seeds!