Vegan Bibimbap
This vegan bibimbap will fast become your favourite! Our recipe is quite traditional but the great thing about bibimbap is you can mix up your recipe (and mix up your bowl!). Use your favourite veggies or whatever you've got in the fridge and create a combination of your choice.
Ingredients
2

tbs

olive oil

2

cups

zuchinni, julienne

1

cup

carrot, julienne

1/2

capsicum, sliced

1

cup

blanched spinach

3

tsp

Kimchi Club Garlic

4

tsp

sesame oil

salt and pepper, to taste

4

tbs

soy sauce

8

tsp

Kimchi Club Chilli

1

tsp

Kimchi Club Ginger

4

cups

Korean purple rice

Kimchi Club hot kimchi, to your liking

shredded seaweed, to taste
Purple Rice
1

cup

short grain rice

1

cup

brown rice

1/2

cup

black rice

1/2

cup

quinoa

1/2

cup

chia seeds

2

cups

water
Instructions
Heat olive oil in a large frying pan over medium heat. Add zucchini and flavour with salt and pepper. Cook for 2 – 3 minutes. Remove from pan. Repeat with carrot and capsicum.

Add cooked rice and vegetables to a serving bowl. Top with sauce and Kimchi Club Hot Kimchi. Stir to combine and serve! 
Blanched Spinach
Wash spinach under cool running water. Place a large saucepan of water on high heat with a dash of salt. 

Once boiling, add spinach for around 30 seconds until leaves turn bright green.

Remove spinach from saucepan and place in a bowl of ice water for 1 minute. Scoop out the leaves and place in a new bowl to sit. 

Combine with Kimchi Club Garlic, sesame oil and salt and pepper. 
Bibimbap Sauce
In a small dish, add soy sauce, 2 tsp sesame oil and Kimchi Club condiments: 2 tsp Garlic, 1 tsp Ginger and 8 tsp Chilli. Stir to combine. 
Purple Rice
To prepare the rice, combine 1 cup of short-grain white rice, 1 cup brown rice, 1/2 cup of black rice and 1/2 cup of quinoa into a bowl, and soak for a half-hour or up to 2 hours. Rinse a couple of times with fresh water.

Pour them into a saucepan, combine 1/2 cup chia seed, and add 2 cups of water. Place on a cooktop with medium heat until it boils. Once it boils turn down to low heat for another 10 minutes.

After that turn the heat off and let it stand for another 10 minutes. Stir well especially from the bottom to make sure it doesn't get too sticky.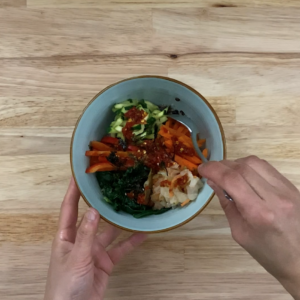 Notes
Try our vegan bibimbap with our Hot Hot kimchi for an extra hot hit!